The Governing Board Meeting of the International Research and Training Center on Erosion and Sedimentation (IRTCES) was held on 27 July 2023. The meeting was conducted both in-person in Beijing and online. Mr. Tian Xuebin, the Vice Minister of the Ministry Water Resources of China (MWR) and the President of IRTCES Governing Board, was present at the meeting and gave a speech. Mr. Shahabaz Khan, Representative and Director of the UNESCO Multisectoral Regional Office for East Asia, Ms. Cui Ying, Deputy Secretary-General of the Chinese National Commission for UNESCO, Mr. Jin Hai, Director General of the Department of International Cooperation, Science and Technology of MWR, Mr. Shu Qingpeng, Director General of the Hydrology Department of MWR, Mr. Zhang Xinyu, Director General of the Department of Soil and Water Conservation of MWR, Ms. Peng Jing, President of the China Institute of Water Resources and Hydropower Research (IWHR) and Director of IRTCES, Mr. Hu Chunhong, academician of Chinese Academy of Engineering(CAE) and professor of IWHR, Mr. Cui Peng, academician of Chinese Academy of Sciences (CAS) and researcher of the Institute of Mountain Hazards and Environment of CAS and MWR, Mr. Helmut Habersack, President of the World Association for Sedimentation and Erosion Research (WASER), Mr. Miodrag Zlatic, the former President of the World Association of Soil and Water Conservation (WSWAC), and other representatives were present at the meeting.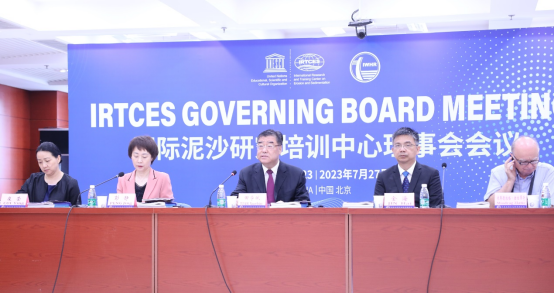 Tian Xuebin has praised the achievements of IRTECS over the past 39 years since its establishment. He pointed out that as the first UNESCO category II centre in the world and the first international water-related centre in China, under the guidance and support of the Chinese government and UNESCO, IRTCES continues to develop and innovate. It has made significant contributions to promote the development of the sedimentation and soil and water conservation worldwide, assist in the construction of ecological civilization, and facilitate foreign exchanges and cooperation in water conservancy of China by carrying out rich and varied of international exchange activities, which have gained a good international reputation.
Tian Xuebin emphasized that sustainable development has become a shared objective among the global community. Water plays a crucial role in supporting this goal and has cross-cutting linkages. The problem of sedimentation and soil erosion is a universal challenge that is closely linked to various objectives of the UN's 2030 Agenda for Sustainable Development. It is also a critical component of the ninth phase of UNESCO IHP's strategy (2022-2029). IRTCES has a solid foundation and has made significant achievements. It should capitalize on new opportunities to further its contributions in promoting global sediment and soil conservation, implementing UNESCO's priority development programs, and achieving relevant goals of the UN's 2030 Agenda for Sustainable Development. To achieve this, IRTCES should conscientiously implement the council-approved work plan and carry out various tasks. It should also leverage its technological advantages and serve as a bridge and link to promote international exchanges, focus on sustainable water development, and strengthen its global leading and driving role. Finally, it should prioritize self-construction and consolidate the foundation of its development.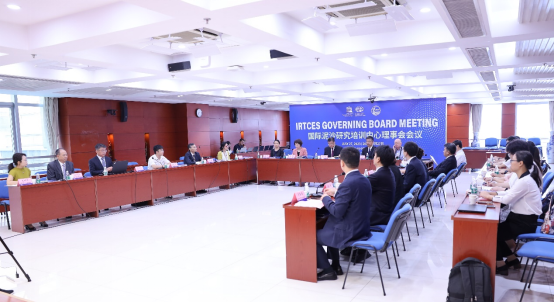 During the meeting, the board members reviewed and approved several report, including the "IRTCES Activity Report (2020-2022) ", "IRTCES Financial Report (2020-2022)", "IRTCES Long-Term Plan (2023-2030)", and "IRTCES Work Plan (2023-2024)". They also made suggestions on IRTCES's future development, such as responding to UNESCO's strategy, analyzing scientific research hotspots, improving cooperation among UNESCO category II centres, and enhancing promotion and publicity efforts.
Peng Jing emphasized that IRTCES, as a member of the global network of UNESCO category II centres and a global academic group, should focus on strategic positioning, strengthen its own capacity building, and act as a bridge and link to promote international academic exchanges and cooperation. Furthermore, the center should actively participate in global governance, contribute to the water-related goals of UN's sustainable development agenda, and strive to become a model of cooperation between the Chinese Government and the United Nations.